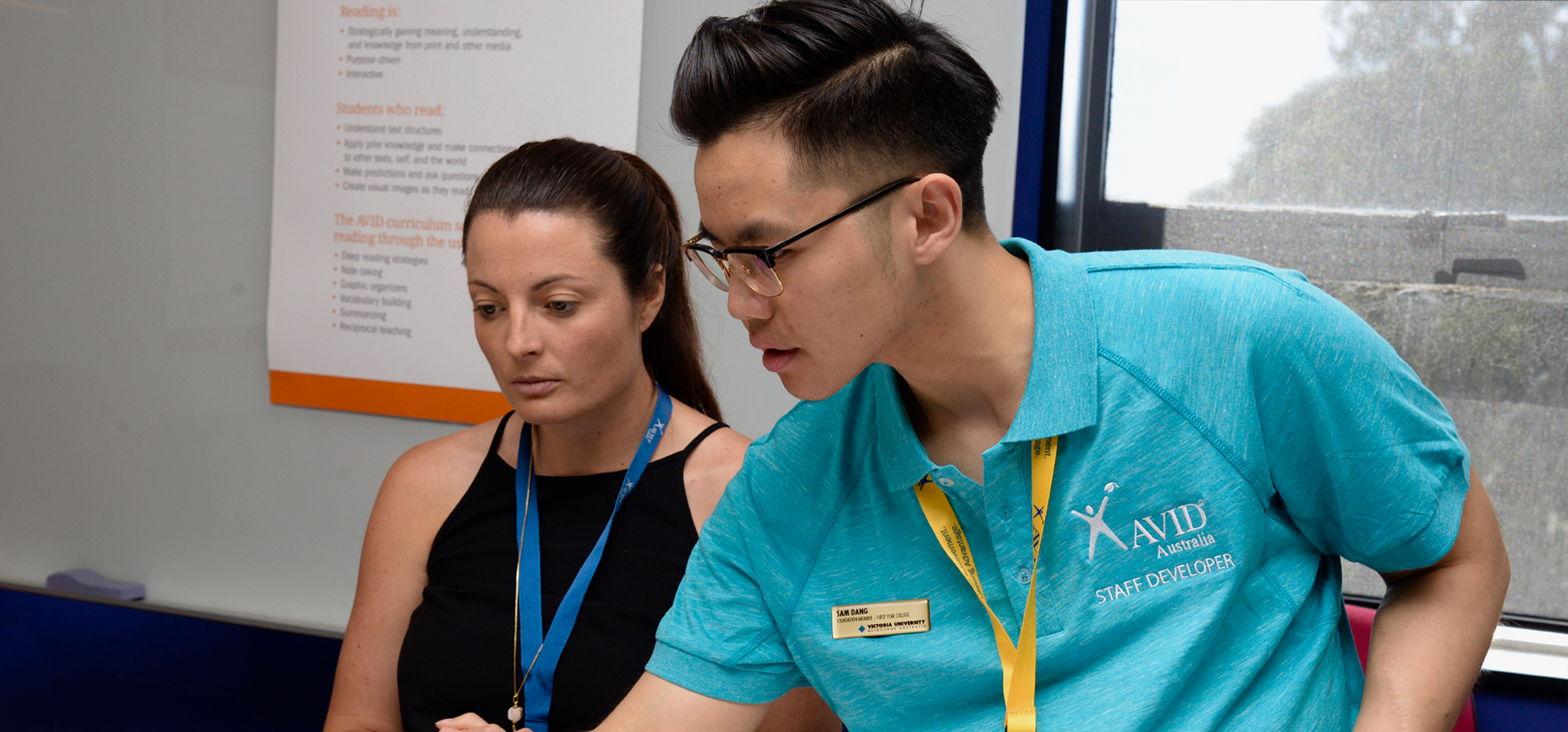 DigitalXP
AVID Australia DigitalXP is an all-new online professional learning experience, offered exclusively to AVID schools in Australia.
DigitalXP provides AVID schools with eight hours of synchronous eLearning and five and a half hours of semi-synchronous discussion forums, activities and online resources, with access to the eLearning environment and extensive DigitalXP materials for 12 months following the event.
All strategies, activities and tools introduced in DigitalXP Communities of Practice can be leveraged in on-site and virtual learning environments.
Find out more about DigitalXP
ElevateXP
AVID Australia ElevateXP is an online professional learning experience, open to all educators across Australia, providing new strategies, tools, resources and support that amplify best practices.
At ElevateXP you will:
Participate in 12 hours of exceptional professional learning delivered synchronously and semi-synchronously over two days
Engage in deeper learning time, which includes focused learning with a facilitator, small-group learning with other participants, and/or individualised learning
Be led by leading Australian teachers and U.S. experts who are trained and experienced facilitators of AVID
Experience and practise high-engagement teaching strategies
Learn how to establish engaging, rigorous classrooms that build community and a strong schoolwide culture
Access extensive resources for 12 months
Find out more about ElevateXP
Summer Institute
Summer Institute is a three-day professional learning event for schools, held annually in late November or early December in Melbourne.
Summer Institute is where educators experience the latest in AVID methodologies and strategies to successfully implement AVID in their context.
Participants attend one Strand where they will engage in a face-to-face Community of Practice, for three days. This provides an immersive learning experience and an opportunity to meet with colleagues from around Australia to plan and enhance their AVID implementation. Educators are also given opportunities to participate in a range of workshops outside of their Community of Practice, including, Site Team Planning for schools implementing the AVID system.
Find out more about Summer Institute
Path Training
Path Training is an optional, two-day immersion model of professional learning that allows educators to accelerate and deepen the AVID implementation at their school. The training can be customised for individual schools or developed to meet the needs of a school cluster or region in any state. Path Training can cater for educators who are new to AVID and for those who are looking to increase their AVID knowledge and skills. We have held Path Trainings in WA and NSW.
Primary Implementation Path Western Australia
Primary Implementation Path is a two-day professional learning program for educators who will be implementing AVID strategies and methodologies in Years K-6 classrooms. Participants will practise and discuss strategies, lessons, and activities focused on WICOR and student success skills in order to facilitate students' access to rigorous content across all subject areas.
In addition, training will include opportunities to provide differentiated instruction to students to help develop a culture of student success, academic achievement, and tertiary and career awareness. Participants will also make connections with the AVID Primary Essentials of Instruction and Culture as they look at implementation both individually and as a site team.
Find out more about Primary Implementation Path Western Australia
Student Success Path Queensland
Student Success Path is designed as an introduction to AVID methodologies and WICOR® strategies including focused note-taking, organisation, Philosophical Chairs and Socratic Seminars.
It is intended for teachers of any subject area. Participants will practise applying AVID's high engagement teaching and learning strategies to their classroom contexts and gain an understanding of how tertiary and career readiness can be supported in all subject areas.
Find out more about Student Success Path Queensland
School-based training
Every year, each AVID school receives a minimum of two days of professional learning targeted at their specific needs. We have a catalogue of modules and a host of expert facilitators who help schools take the next step in their improvement journey. These training sessions are opportunities for teachers to:
deepen their understanding of the AVID curriculum

continuously build upon AVID strategies in a scaffolded and personalised way

engage in opportunities of scholarly dialogue regarding the AVID system

share ideas and collaborate with other AVID colleagues

develop meaningful and effective professional learning communities within their school and beyond.